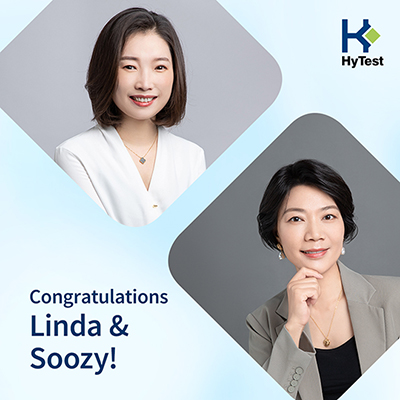 We have been privileged to have Soozy and Linda on our team for about 10 years. Now the story continues with new job descriptions – Soozy Xi will continue as CCO of HyTest and Linda Li will take on the role of General Manager of HyTest China. The whole team warmly congratulates! We also got a few comments from them:

Soozy: "The 12 years I have worked at HyTest China have been the best years of my career. In my new position, I will work with the team at headquarters to commit to further enhancing the customer experience, from R&D to delivery, from today to the future, firmly providing global IVD customers with high-quality, reliable, and stable raw materials for a long time, helping them succeed and serving together for better clinical outcomes and improving the quality of life and health."

Linda: "I am honored to accept this appointment! HyTest has a deep professional accumulation and high-quality and reliable products, in the future, we will continue to maintain our enthusiasm for the company and focus on the industry, serving our customers with more professional services and extreme sincerity, in return for their years of support and trust. I believe that as long as we work together, we will be able to achieve our goals and create a brighter future together."