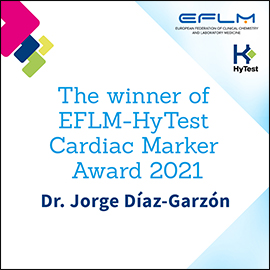 The winner of the third EFLM-HyTest Cardiac Marker award will be announced by the EFLM President during the Opening Ceremony of the 24rd IFCC-EFLM European Congress - EuroMedLab in Munich in November 2021.

This EFLM award is given to the best published paper, as judged by an independent panel of experts, which demonstrates a remarkable scientific work in the field of cardiovascular diseases. The award is addressed to young scientists under 40 years of age.

The EFLM Award Committee had a difficult task in selecting for the most remarkable scientific work among the submitted papers but in the end Dr. Jorge Diaz-Garzon, (Hospital Universitario La Paz, Madrid, Spain) was selected to receive the award.

Our warmest congratulations!
Earlier winners of the EFLM-HyTest Cardiac Marker award:
2017 - Dr. Thomas Kaier, The Rayne Institute, Dept of Cardiology, St Thomas' Hospital, London
2019 - Dr. Saara Wittfooth, Dept. of Biochemistry/Biotechnology, Faculty of Science and Engineering, University of Turku